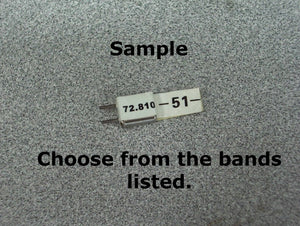 These crystals will only work in Single Conversion Receivers (the most common type)
Offered as individual pieces so you can get exactly what you need provided the frequency is available.
FOR AIRCRAFT ONLY. These will not work in car radio systems.

These SC (Single Conversion) FM Futaba compatible crystals work with most aircraft 72MHz radios, except HiTec & JR.  I've only got ODD bands, except for 60.
Note: Most radio manufacturers recommend choosing bands close to the band the radio came with when purchased.  Precision tuning of the radio using that band would have been done by the factory (or if serviced by a factory authorized service center).  Note that the older your radio is, the more likely the tuning has drifted somewhat and choosing a band near to the original factory tuned band becomes more important for best performance. Always perform a range test before flying!
After placing your order, please reply to the order confirmation email with the crystal(s) you need like this:
RX11 is receiver band 11
TX53 is transmitter band 53
I have the following stock available:
| | | |
| --- | --- | --- |
| BAND |  TX |  RX |
| 11 | 1 | 0 |
| 13 | 1 | 0 |
| 15 | 2 | 0 |
| 17 | 4 | 1 |
| 21 | 3 | 0 |
| 25 | 0 | 2 |
| 29 | 0 | 2 |
| 31 | 0 | 5 |
| 33 | 1 | 2 |
| 35 | 0 | 3 |
| 37 | 0 | 0 |
| 39 | 0 | 1 |
| 41 | 0 | 0 |
| 43 | 0 | 5 |
| 45 | 0 | 2 |
| 47 | 0 | 0 |
| 55 | 0 | 4 |
| 57 | 4 | 0 |
| 60 | 0 | 5 |