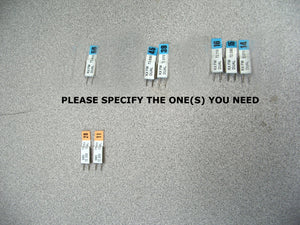 These normal sized 72 MHz crystals will only work in  Dual Conversion Receivers (NOT the common type).  Photo does not reflect stock on hand but is listed below.
Offered as individual pieces so you can get exactly what you need provided the frequency is available.
FOR AIRCRAFT ONLY. These will not work in car radio systems.
The blue tagged crystals are CORONA DC crystals which are Futaba compatible.
The orange tagged crystals are GWS DC crystals and not Futaba compatible.
These are new crystals purchased with Corona DC and GWS DC receivers we haven't offered in a long time.
When placing an order, please specify the crystal(s) you need from our stock listed below:

Blue14
Blue15
Blue16
Blue39
Blue45
Blue56


GWS11
GWS28