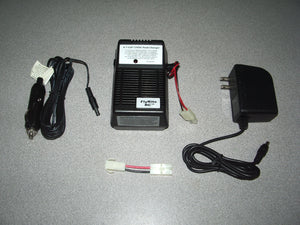 This Peak Charger makes quick charging of 6-7 cell NiCd or NiMH batteries up to 1500 mAh in capacity fast, safe and easy, without the need for discharging or timing. Charges  under 80 minutes for 1500mAh packs. This combo pack includes both auto cigarette adapter and the AC home adapater so you can charge at the field or at home. Peak detection circuitry assures full charge everytime and switches to a trickle charge so you won't have to worry about overcharging. Extends battery life too! The perfect field charging solution for any of our planes. Includes Tamiya adapter for compatibility with sub and standard sized Tamiya connectors.
Remember the number one rule for safely charging.
Never leave a charging battery unattended!
Features
Approximate Charge Times:
600 mAh 40 minutes max
900 mAh 60 minutes max
1500 mAh 80 minutes max

Charger Input: 12-14.5 VDC
Fast Charge Current: 1 A
Trickle Charge: 2 A-s pulsed every 5 minutes
Auto Start: Charging begins when battery and power is connected.
Power On/Reset: When power is applied to the 12V jack, the charger resets and initializes as indicated by three 1Hz flashes of the LED.
Battery Fault Detection: If the battery voltage fails to achieve a 2.9V minimum after 6.5 minutes of charging, the charger suspends charging and remains in a reset state.
False Peak Protection: Peak detection is disabled in the first 6.5 minutes of charging to avoid reading a false peak.
Charge Termination: The fast charge process is switched to a trickle charge when any one of the following occurs:
(1) Negative Delta Voltage is 0.25% of the peak
(2) Battery voltage remains at peak or decreases very slowly over a 5 minute period
(3) Maximum Charge time of 80 minutes is exceeded