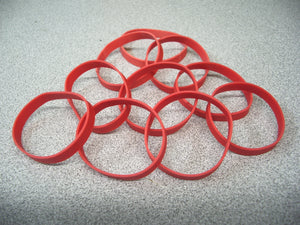 T-Hawk and AeroHawk Wing Rubber Bands.
Red color makes them easier to find in the field!
Package of 10pcs.
Size #62  (2.5" x 0.25")
Made in USA.

Tip: Band stiffness variation may tilt the wing from horizontal. Apply 2 criss-crossing bands over the wing mount and if needed, add a 3rd band across the high side to make it level. For maximum life, store rubber bands in a cool dark place.